Our Lineup Optimizer is an incredibly powerful tool inside our Player Models, particularly when creating a large number of lineups. However, it's just that — a tool. We still have to make decisions. Otherwise, everyone would have the same 150 lineups in each contest.
This is intended more as a teaching piece than a step-by-step guide. These rules are suggestions that can show you how to translate your read on this game into lineups.
Additionally, this piece focuses on DraftKings Showdown contests, but similar strategies are useful on FanDuel.
For my general Showdown strategy, you can read my Showdown primer and Matt LaMarca's in-depth Showdown breakdown.
My Favorite NFL DFS Angle in Dolphins vs. Bengals Showdown
I am really hoping that the combination of price and (relatively) low recent production will end up with Ja'Marr Chase under-owned tonight. Chase and the Bengals take on an aggressive Dolphins defense based on a man coverage heavy blitz scheme.
Chase has historically been Joe Burrow's go-to target this year seeing a 35%+ target share against both man coverage and blitzes. Chase has seen 9+ targets in each game this year and has the dynamic ability to score on deep shots or convert short throws into big gains. This is a massive blow-up spot for Chase and is my top priority Captain in this matchup.
Lineup Optimizer Rules to Consider
General
Max 3 players vs. opposing Defense
Minimum salary cap 90%
Player Correlations
With four high-end alpha wide receivers in this game, it is going to be very difficult for one of these quarterbacks with limited mobility to be the optimal captain. It is imperative to stack either Captain QB with at least two pass-catchers and at least one of the alpha options.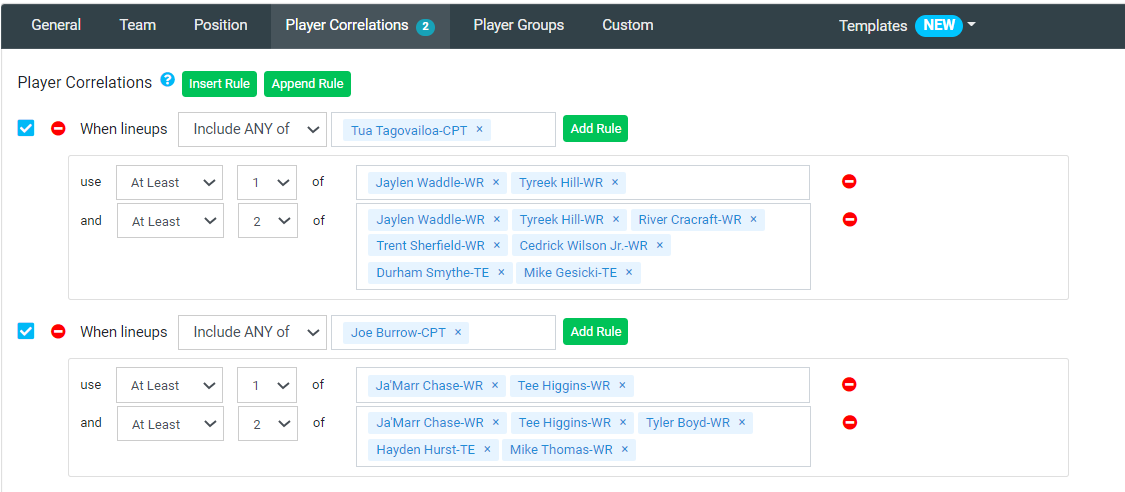 Remember to pair Captain wide receivers with at most one pass-catcher from the same team.
I don't mind implementing a rule to negatively correlate each team's other primary receiver when one is captained. For example, a rule to decrease Tee Higgins' projection by 10-15% when paired with Jamarr Chase Captain.
Player Groups
The standard rule of max two kickers and defenses applies.
Max 1 of Durham Smythe, Mike Gesicki
Max 1 of River Cracraft, Cedrick Wilson, Trent Sherfield
Captain Pool (from highest to lowest priority)
Primary Targets
Jamarr Chase
Tyreek Hill
Tee Higgins
Jaylen Waddle (lowest of this group due to Q tag)
Secondary Targets
Joe Mixon (due to lower usage last week, possibly because of injury)
Tyler Boyd
Large-Field GPP Fliers
Joe Burrow
Tua Tagoviaioa