Before the season, I introduced an idea called "NFL DFS Correlation Values" where I essentially just compared the price differences between the correlations we know are positive – specifically, QBs and their WRs, QBs and Kickers, and QBs and D/STs – and see where we could find "free upside." Read the original article here for a more in-depth explanation.
Basically, the point is, we know that there is a positive correlation between a D/ST and the QB of the same team. We can look at the slate and the price differences between all the QBs and D/STs on the weekend and see which have the biggest price discrepancies. Really, it boils down to this – if you're going to take a QB, how much does it cost you to take his D/ST as well? If it's essentially nothing – maybe they're minimum salary – then you're more-or-less getting that "free upside" I mentioned above.
Moving on, here's the data for Week 4. (Everything is sorted alphabetically.)
DraftKings: QB and WR Correlation Values
Obviously, the most negative one on the week is taking a Michael Vick-Antonio Brown stack. They're in an interesting spot for sure – the Steelers are going against one of the best run defenses in the league (in terms of fantasy points allowed to RBs) in Baltimore. This would normally be a spot where we'd load up on Le'Veon Bell because of Big Ben being out, but the Ravens will likely stack the box against him. This will be one of the more interesting games of the weekend.
The most positive ones here are good quarterbacks that just don't really have any good receivers, specifically Cam Newton and Russell Wilson. I think some of the biggest value in this chart can be found in the mid-tier correlations – perhaps a discounted Andrew Luck-T.Y. Hilton stack this week or yet again, Palmer and fire-hot Larry Fitzgerald.
Of course, Julio Jones and some of the stud receivers could still go off – this isn't saying they're bad plays – just that you're not getting a value on the stack. That may (maybe even probably) doesn't matter as much in tournaments, but it's still useful to know where you can find a good stack that and get that correlation without breaking your bank.
FanDuel: QB and WR Correlation Values
The ones that stand out the most are fairly similar to the DraftKings ones – the Cardinals offense is elite and prices haven't necessarily caught up with their production yet. The Packers are fairly positive here, and while a Rodgers-Cobb stack is definitely expensive, it obviously has a ton of upside as we saw just last night. And finally, the Luck-Hilton stack is a bit undervalued as well on FanDuel, so that may be a place to look if Hilton is healthy.
FanDuel: QB and K Correlation Values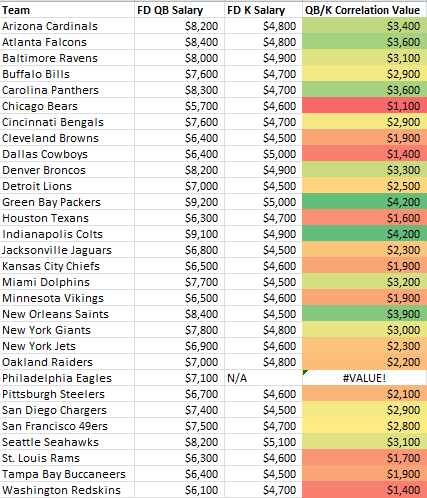 I'm sure you're a bit confused – the Eagles actually don't have a kicker available on FanDuel this week because of Cody Parkey's injury. I do think a ton of value can be found in these specific correlation values, and mostly because the difference between defenses – while they're fairly large when it comes to potential outcomes – aren't very different in price.
For example, if you're going to take Aaron Rodgers this week, you're just paying an extra $500 above the minimum salary to get the correlation between the two. The same goes for the Colts – I think especially in tournaments, it's an excellent strategy to pay up for a D/ST because you're not only getting this free correlation upside, but also probably getting them at a discount, as most people fill in their defense last and pick the cheapest "best" team available.
FanDuel: K and D/ST Correlation Value
For this, I'm actually going to give both the values for D/ST with Kickers and Kickers with D/ST. If that's confusing, remember to think about it this way – if I'm going to take a D/ST, what's the correlation value of taking the kicker. You can obviously think of it the opposite way for kickers as well.
The ones that stand out to me are the Falcons and Ravens, both who have looked good despite the drastic difference in records. The Falcons get Ryan Mallett and the Houston Texans while the Ravens get Michael Vick and the Steelers – there's obviously potential for those defenses and I think the offenses have some upside as well. I think it makes sense to pair the kickers and D/STs from those two teams if you decide to go that route.
Anyway, enjoy the charts and I hope you find them useful. Good luck in Week 4!